Current Career Opportunities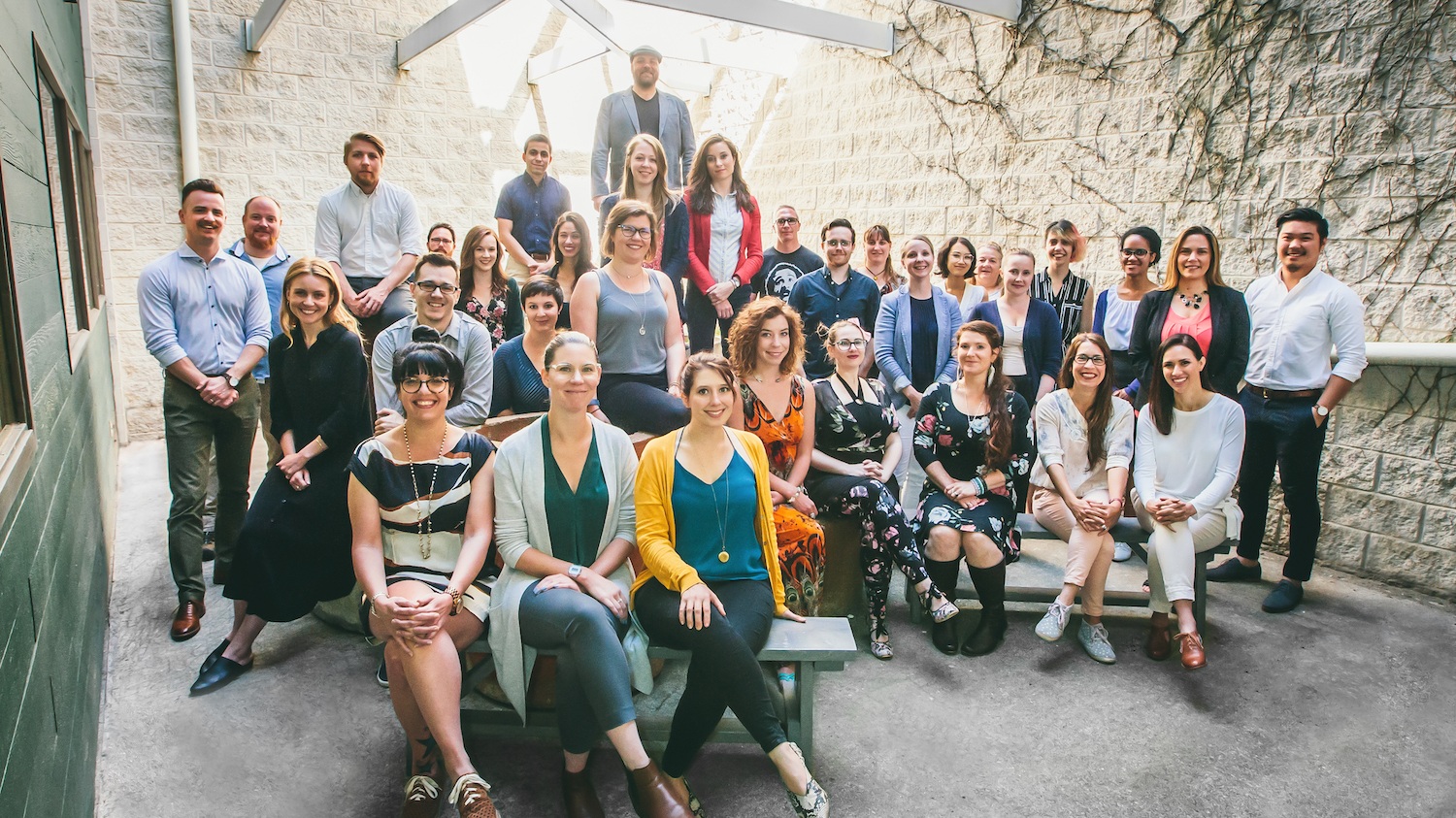 FriesenPress is made up of a dynamic group of people. We're writers, editors, philosophers, photographers, filmmakers, dancers, musicians, artists, athletes, actors and entrepreneurs. What do we all have in common? We love stories!
FriesenPress is a division of Friesens Corporation, an award-winning North American leader in the book printing industry. In business since 1907, Friesens provides book-manufacturing services in the United States and Canada, with 25 million books printed every year, including original editions of the popular Harry Potter series and the classic Oxford Dictionary. Recognized over the years with numerous prestigious international awards, including Canada's Top 50 Best Managed Companies, for book quality and management leadership.
As a Canadian publishing services provider, FriesenPress helps authors realize their dream of publishing their book. Our suite of products include various publishing paths containing a wide range of services like editing, book layout and design, channel distribution and marketing coaching. Our shared culture, values and beliefs have been the foundation of our approach to customers, employees and the community at large.
At FriesenPress, we look for individuals who constantly raise their personal bar and thrive when achieving outstanding results. We want to hire people who are eager to learn, but also people we can learn from - people who can increase the overall effectiveness of the organization. If you feel that your personal and professional values align with ours, we invite you to join the FriesenPress family!
Please send your resume and cover letter to careers@friesenpress.com.
Director of Operations
Are you passionate about the publishing industry and looking to apply your business and leadership education and experience in a team environment?
As a 10-year-old Publishing Services company, FriesenPress is ready to embrace an ambitious leader who has a passion for coaching and developing people, optimizing the customer experience and contributing to strategy development, into our family.
In this position, you will be leading, in partnership with your 3 Managers, our core operational teams including administration/accounting, book design, book promotion marketing, book project managers and a mighty remote freelance team that does editing, illustrations, indexing and data entry.
If this sounds like the ideal position for you, we want to talk to you! Please send your cover letter along with your resume to Tammara Kennelly, President at tkennelly@friesenpress.com no later than October 15, 2019. Please include your salary expectations in your cover letter.
*Disclaimer: applicants must love dogs, trivia tournaments, and food. Proficiency in some kind of instrument is a bonus, as we like to be serenaded during staff events.
Job Summary
The Director of Operations primary responsibility is ensuring organizational effectiveness by providing leadership for the organizations operational functions including: Administration/Distribution, Publishing Specialists, Book Promotion and Book Design departments. Working as a part of the executive team, this position contributes to the development and the formulation of innovative business development strategies. The Director of Operations is responsible for the planning and implementation of comprehensive policy and procedures and the promotion of production agility and efficiency, in order to achieve and exceed annual plan & corporate objectives.
This role reaches these objectives with:
Continuous improvement processes;

Precise planning skills;

Profound understanding of the business operation;

Effective change management;

Effective and motivational leadership;

Positive interpersonal relations and exemplary accountability.
Duties and Responsibilities
Foster a culture that recognizes, rewards and encourages personal growth through empowerment and innovation;

Manage and oversee personnel and the corporate budget targets in both revenue and department expense categories;

Facilitate team meetings; coordinate departmental programs, such as meetings, seminars, workshops, special projects, and events;

Provide support to the Sales and Marketing team;

Contribute as a key member of the leadership team to the development, implementation and execution of FriesenPress' strategic plan;

Participate in developing a process to gather continuous feedback from internal departments and Authors;

Stay up to date with external and internal industry trends and developments in the environment for identifying new products and market segments;

Carry out feasibility studies/business plans for product or service improvement, customizing, re-modeling and new product / service development;

Negotiate contracts and service level agreements for third party suppliers and/or service providers;

Demonstrate knowledge of, and promote, company mission, vision, value statements, standards, policies and procedures, operating instructions, confidentiality standards and the code of ethical behavior;

Promote the mission and values of the organization both internally and externally, as well as oversee the adherence to values and mission;

All administrative aspects of managing a team including recruitment, training, mentoring, development, periodic performance evaluations, payroll, attendance and staff scheduling;

Assist in the management of building security, such as the assignment of keys and alarm codes for approved personnel; Ensure the office facilities are in compliance with safety regulations;

Communicate the organizations safety policies in accordance with applicable federal and provincial safety standards and local laws.
Job Requirements
Strong relationship building skills with both internal and external stakeholders;

Experience coaching a team for sales and customer service performance and employee growth;

Highly self-motivated and self-directed professional;

Excellent display of critical thinking, creativity and innovation; administrative, organizational and time-management skills; exceptional analytical and problem-solving abilities;

Ability to develop and maintain positive working relationships across functions influencing and taking initiative through the use of strong verbal and written communication skills; excellent collaboration skills and a deep understanding of change management methodology;

Open to direction and collaborative work style; Ability to challenge and debate issues of importance to the organization. Ability to look at situations from several points of view;

A demonstrated commitment to high professional ethical standards in a diverse workplace;

Experience working with executive business leaders and owners;

Proven ability to maintain confidential and sensitive information with tact and diplomacy;

5-10 years experience in an operational leadership role with a proven track record of strong results;

Fluent in written and spoken English;

Advanced Computer literacy and prior use of CRM;

Prior book publishing knowledge would be an asset;

Post-Secondary Education in a related field and demonstrated value for lifelong learning.
Core Competencies
Commitment to Excellence: Carrying out responsibilities in a professional manner and willingness to "go the extra mile" to ensure total customer satisfaction. Overcoming obstacles and showing persistence.

Communication: Effectiveness of speaking, listening and writing. Constructively communicate in a helpful manner. Good judgment in utilizing email, telephone and face-to-face communication.

Initiative & Process Improvements: Effectiveness as a self-starter in actively influencing events rather than passively accepting them. Evidence of taking action, unprompted. Actively researching equipment and/or processes to improve efficiency and effectiveness.

Interpersonal Skills: Effectiveness in dealing with others; caring about people as individuals, treating them with respect and dignity and demonstrating tact, sensitivity, cooperation and professionalism.

Management Focus: Effectiveness in prioritizing your most important objectives and minimizing distractions. Maximizing time and effort.

Performance Management: Effectiveness in utilizing the Performance Management System to guide, coach and develop staff.

Planning & Organizing including Follow-Through: Developing strategies or an appropriate course of action for self and others for accomplishing goals and objectives including Business Plan objectives. Doing what you say you will do, in the time frame you committed to. Completing tasks on time without reminders.

Problem Solving/Decision Making: Effectiveness in identifying problems and possible causes, obtaining and evaluating data, drawing logical conclusions, making sound judgments and based on the conclusions reached make decisions.

Resiliency & Stamina: Stability of performance under high levels of work pressure and tight deadlines.
Publishing Specialist
FriesenPress is looking for a creative individual who has a passion for books, project management, and working alongside an eclectic group of people to help bring our clients projects (books!) to fruition.
In this position, you will be coordinating all publication-related activities and services (such as Editing, Illustrations, and Design) ensuring your author receives a top quality product. This diverse role will enable you to put into practise your strong Customer Service, Project Management and Sales skillsets, while developing expertise in the publishing industry.
If this sounds like the ideal position for you, we want to talk to you!
*Disclaimer: applicants must love dogs, trivia tournaments, and food. Proficiency in some kind of instrument is a bonus, as we like to be serenaded during staff events.
Duties and Responsibilities
Maintain a high level of customer satisfaction throughout a collaborative, multi-faceted, and high touch publishing process.

Manage Author relationships to build a reputation for excellent service and generate repeat business.

Coordinate activities associated with an Author's book during publication, including reviewing and disseminating the Author's intentions and express instructions. Following production service schedules.

Manage Author account in internal Customer Relationship Management software, including manuscript materials, publication instructions, and payment and shipping instructions.

Act proactively to prevent potential issues that may impact Authors, and promptly resolve any problems that may arise during the publication process.

Manage Author communication with internal and external stakeholders through email, phone and in-person meetings. Comply at all times with FriesenPress service levels requirements.

Collaborate with the Book Design team to ensure that the execution of the Author's vision meets their expectations.

Recommend add-on products or services to Authors based on their publishing needs.

Perform other job assignments as prescribed by the Team Lead, Publishing Services.
Job Requirements
Demonstrated ability to offer world-class customer service standards in person, on the phone, and via email; with a passion to go above and beyond customer expectations.

You love to learn. People would describe you as a curious problem solver that is highly adaptable. You have an attention to detail and an ability to focus on a project through the entire lifecycle with an excellent display of critical thinking.

Ability to make sound business judgments to meet customer and business goals in the most cost-effective way.

Ability to identify challenging situations and communicate expectations to both Authors and internal parties.

Self-motivated, with the ability to work as part of a team or independently as required.

Possess strong administrative, organizational and time-management skills.

Strong interpersonal and communication skills. Fluent in written and spoken English.

Computer literacy; familiarity with word processing and spreadsheet software.

Minimum two years of customer service experience.

Prior use of CRM software would be an asset.

Prior book publishing knowledge would be an asset.
Core Competencies
Customer Focus

Problem Solving

Accountability and Dependability

Communication

Creative and Innovative Thinking

Project Management

Quality Orientation

Resiliency and Energy

Team Work

Time Management
Application Process
We are currently looking for a Publishing Specialist for our Downtown Victoria office. We offer an attractive package of benefits, including:
Hourly wage + commission

Profit sharing

Extended medical and dental benefits

Group RRSP with matching contributions

Volunteer opportunities available

Excellent opportunities for career development
If you meet the above criteria and would like to apply for this position, please submit your cover letter and resume to careers@friesenpress.com. We look forward to hearing from you!
Job Type: Full-time
Salary: $16.08 /hour
Experience:
Sales: 1 year (Preferred)

Customer Service: 2 years (Preferred)

Project Management: 2 years (Preferred)