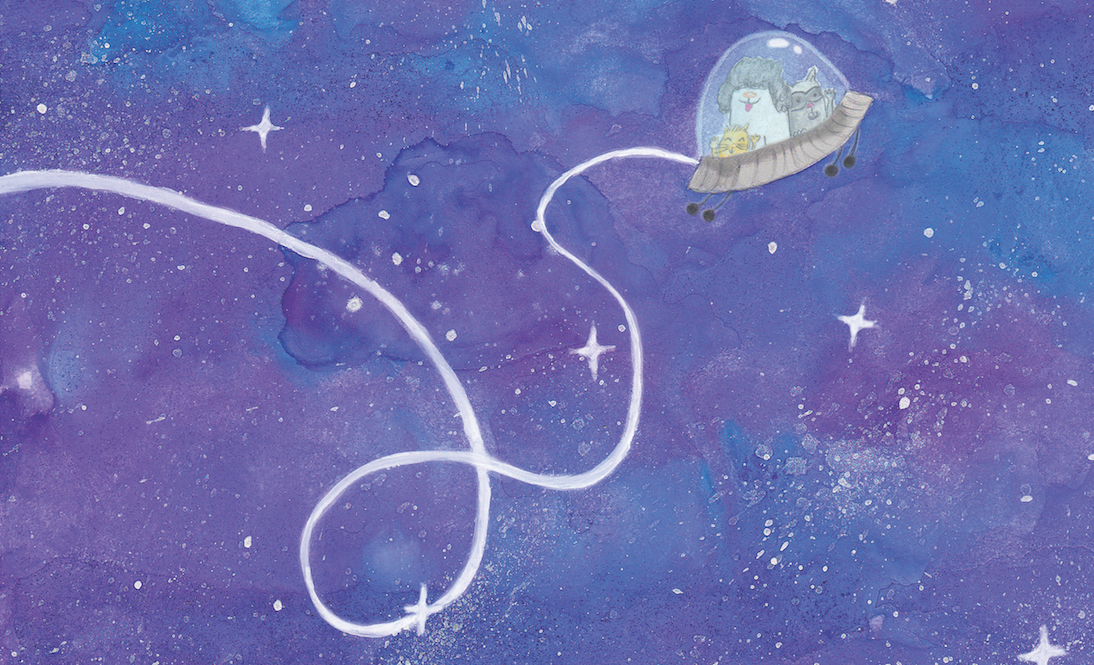 How I Balanced Parenting & Publishing
By Malgosia Krol, FriesenPress Author
Malgosia Krol was a new mom and aspiring author before a chance encounter on the bus changed everything. Today, she's the author of the Kirkus-starred children's book Quest-terrestrials Vol. 1 - with Volume 2 on the way.
How did Malgosia balance a new baby with making her publishing dream a reality? She explains here:
Publishing a book as a stay-at-home-parent can feel intimidating – like something out of Mission: Impossible (...6? 10?) – but it doesn't have to be intimidating.
In my case, self-publishing a Kirkus-starred picture book while navigating motherhood was a lot like doing anything with a little one in tow. You want to do yoga? You'll do it with a little monkey on your back. You want to go to the bathroom? You'll do it with a little guest on your lap. You want to eat your dinner in peace? Bahaha. Well, at least you'll eat (eventually).
Things change beyond changing when you have a child, but that doesn't mean the world stops turning, it just means it turns with a little more "flair" (read: chaos).
Becoming a mom changed how I thought about the planet and myself. I felt simultaneously invincible and utterly depleted in every way. I was inspired to write about mine and my daughter's mutual feelings of being alien to this new experience. And that's when I became aware that I had put my passion for kid's book writing and illustrating on the back burner for much too long.
Soon after, my partner rode the bus home from work and handed me a business card. It was from somewhere called FriesenPress.
"What are the chances of me striking up a conversation with someone in the publishing industry?" he asked. "You should call him tomorrow - I told him about you and your book and he loved it."
While this felt like a "now or never" scenario, reasons to put things off are aplenty - especially considering that caring for our children eclipses all other aspects of our lives. But, as my wise grandma says, "accept help when it's being offered, because you don't know when it's going to come around again". So, I made the call.
Speaking with Christoph at FriesenPress - the Publishing Consultant on the bus - was the push I needed to get started without having to explore the (sometimes daunting) world of self-publishing by myself. I now had a guide and the support of a professional team. Now I could simply focus on the creative stuff.
If not for that serendipitous kick in the keister, I very well may not be sitting here writing about my experience. Nor would Quest-terrestrials Vol. 1 be awarded a Kirkus Starred review. Nor would it have been chosen as a "Best Book of the Month" for July 2018. Nor would my book be stocked in Victoria's iconic local bookstores. Nor would I be working on Vol. 2 of the Quest-terrestrials series!
Before parenthood, I had excessive free time with a dozen picture books under my belt waiting to be illustrated and published. But I didn't. Why? I took that time for granted, because that's time you no longer have as a parent. Instead of using that as another reason to put my picture books aside, I used it to my advantage. That's right: I used my LACK of time as an advantage, turning it into a friend instead of a foe.
I worked while my daughter napped, no excuses. I started a crowdfunding campaign to finance the book. I used whatever preliminary illustrations I had as visuals in the campaign, even if I wasn't totally happy with them (my inner perfectionist still won't talk to me). I made a video to engage more backers. I worked tirelessly to promote the campaign while making a dummy page layout for the kid's book. I then got started on the first-draft illustrations and the manuscript unfolded on it's own. Sometimes I had 3 hours, sometimes I had 45 minutes. It didn't matter: I was determined to finish and bit-by-bit I did.
Nearly a year later, I was holding my book in hand. If you're an aspiring author or writer and find yourself with "reasons" not to see a book through, just be aware of all that time that's passing with or without you on board.
Repeat after me: if something is important to you, you're going to do it. Period. The path forward is just going to look slightly different than before a tiny human entered your life. So why not lead by example and show your little one the importance of following one's dreams? Hard work aside, I had so much fun including my daughter in the process whenever I could. I'll never forget seeing her expression, holding a printed copy of the book and repeatedly asking "again" after reading it to her. (And hey - snapping 500 pictures of the moment helps).
Malgosia Krol's first loves in life were drawing, telling stories and big hair. She now busies herself writing and illustrating, while keeping up with her daughter. Originally from Poland, Malgosia immigrated to Canada when she was nine years old and currently lives with her family in Victoria, BC. She hopes to one day hitch a free ride into outer space (preferably on a unicorn, but a dragon will do too).
Learn more about Malgosia, the Quest-terrestrials series, and her upcoming projects at malgosiakrol.com. Quest-terrestrials Vol. 1 is available now on the FriesenPress Bookstore and Amazon.
###
No matter your level of experience, our FriesenPress Children's Publishing Paths are designed to help authors create beautiful, market-ready children's books.
Like what you just read?
Learn more in our Author's Guide to Successful Publishing - get your free copy: